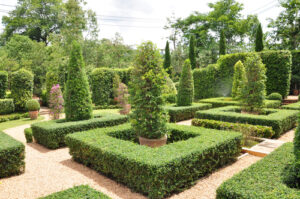 Creating Beautiful English, French, and Japanese Landscapes in Las Vegas
There are many different types of landscapes around the world, so you can easily find one that is right for you. The key is to consider the different styles until you find one that speaks to your inner soul. Then incorporate the main elements into your Las Vegas yard using plants that do well in the Nevada climate.
English Gardens
English gardens date back to the late 17th century. These gardens use shrubs like the butterfly bush and barberry to create rooms in the landscape along with a pathway that visually guides the eye. Perennials, like the dwarf phlox and the dinner plate hibiscus, are the main plants in these gardens, and none would be seen without some type of climbing roses, like the Mme. Caroline Testout or Zephirine Drouhin variety. Make sure to set aside space for a herb garden.
French Gardens
First appearing in the late 1600s, these gardens take their inspiration from Italy. The home is a focal point in these formal gardens with large paths radiating from it, providing amazing views of the home. Everything in a French garden is very symmetrical and geometrical. The gardens near the home are very intricately designed, but those further from the home have a more relaxed atmosphere. Small water elements are essential. It is essential that the landscape has some type of terrace, where the entire yard can be viewed. Shrubs like the elderberry are often used to line pathways.
Japanese Gardens
Japanese gardens often are asymmetrical and center on a bamboo or other natural wooden teahouse. Water basins surrounded by beautiful stone elements are an essential part of these gardens. Surround large boulders with small plants to create focal points in the garden. Plants that do well in xeriscaping are often great for Japanese gardens. Many landscapes incorporate beautiful spring-blooming flowers, like snowdrops and grape hyacinth, while also incorporating a maple tree for a blast of fall color.
The perfect landscape design in Las Vegas begins with deciding which type of landscaping appeals to you the most. Once you have the inspiration, contact us to help you create your favorite designs in Nevada.
Share this post!