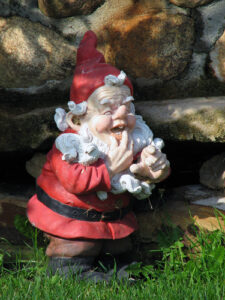 Why Santa Should Bring Garden Art
The holidays are a great time to ask for special garden art to add to your Las Vegas backyard landscaping. Buying these items as winter holiday gifts ensures that your friends and family will think of you each time they see the item throughout the year. Getting landscaping ornaments now also allows your loved ones to incorporate the garden art into their springtime garden planning.
Statues and Sculptures
The most popular types of garden art are statues and sculptures. Consider architectural elements of the home when selecting these items. They should pay tribute to the overall theme of the garden. For example, a large American flag would look out of place in a Japanese-themed garden. Additionally, think about perspective. A large statue may overwhelm a small space, but the exact opposite often happens with a small statue becoming overwhelmed in a much larger space. Finally, take into consideration the weather in Las Vegas so that you buy a statue or sculpture that will withstand the constant sunshine and warmth. Buying birdbaths and feeders can be a great way to add art to a garden while taking care of the birds that visit your garden.
Signs and Plaques
Garden signs are a great way to let the owner's personality shine through in their backyard landscaping. As with statues and sculptures, it is important to keep the architectural style of the space in mind. If you are making garden signs and plaques to give as a gift, then there are many different materials to consider using, including old wooden pallets or barn wood. On the other hand, metal signs can be purchased from many different sources. Engraved signs work extremely well in Las Vegas because they normally withstand the punishing summer sun better.
Gazing Globes
Since the 13th century, homeowners have been using gazing globes. Over time, people have used them to spy on teenagers or ward off evil spirits, and people have used the reflection to view guests so that they could be a more attentive host. They often make great focal points in backyard landscaping. Plants near stainless steel gazing balls receive up to 78 percent more nitrogen, making them grow healthier. Garden globes made of resin or metal with powder-coated finishes are easy to care for because they just need a quick blast with the garden hose while watering to keep them clean. Glass globes, however, should be brought inside when the temperatures drop. Giving garden art for winter holiday gifts is a great way to help friends and family get a jump start on landscaping for next year. The recipient will think of you fondly throughout the coming year and for many more years to come.
Share this post!