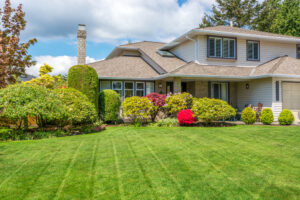 The lawn is one of the most important parts of your residential property that determines the level of your home's curb appeal. Grass requires plenty of maintenance and care to ensure that it thrives throughout the year and doesn't suffer from damage. If you want to protect it from the sun and heat in the summer months, there are a few necessary steps to take before the warmer season arrives.
Overseed on Gaps
If there's inadequate drainage on your property, it can lead to gaps and patches that form, which can cause the grass to look uneven. Hire a professional who performs Las Vegas irrigation repair to improve the drainage on the property to prevent the lawn from getting too much water than it needs. Fill in the gaps by breaking up the soil before raking it. Even out the surface and then add seeds before watering the area. The new grass will begin to appear in 10 days as it's watered every one to two days. A standard fertilizer that is nitrogen-rich can also be used while reseeding the lawn.
Keep It Watered
Water the lawn for an extended period, which will allow the moisture to penetrate the roots and prevent it from dying. Watering the grass in the morning or at night will prevent as much moisture from evaporating to ensure that the lawn gets as much water as possible. Test your sprinkler system to ensure that the water is turning on each day and reaches each part of the yard and any plants that are present. Grass typically needs an average of one inch of irrigation on a weekly basis.
Mow the Lawn Frequently
Mowing the lawn each week or two will keep the grass short, which will allow it to receive plenty of sunlight and water. Avoid cutting more than one-third of the top of the grass, which can lead to damage. Mowing it frequently will also help to strengthen the roots to ensure that the grass becomes stronger. You'll also want to raise the cutting height of the lawnmow
Share this post!