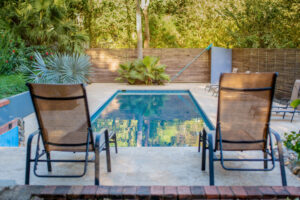 Completely Transform Your Patio With New Ideas
Many people find that the patio is the center of their homes. It's the space where they play with their kids, dine with friends, and just relax and enjoy the quiet. Depending on how old your Las Vegas home is though, you may find that your patio looks outdated and just plain old. No matter how old that patio is, you can still transform it and make it look new.
Add a Roof
One of the differences between a patio and a porch is that a patio is usually open while a porch has its own roof or a covering that extends out from the home's roof. If you like spending a lot of time outside, you can add a roof to your patio. Experts can even add a roof to a patio located in the center of the yard instead of attached to the house. That roof will give you some protection from the sun and can keep the patio feeling cooler at night.
Add Some Landscaping
With landscaping services in Las Vegas, Nevada, homeowners can transform their patios with new plants, flowers and other types of decorations. Though many think in terms of plants, it can also include rocks, sand, and other decorative elements. You can add artificial turf around the patio that looks just like real grass, bring in some beds made from dirt and sand with plants placed in the center, or plant trees that provide some shade from the sun.
New Decorations
One of the easiest and most affordable ways to transform your old patio is with new decorations. A new set of patio furniture provides an instant update. You can also switch out your old grill, bring in some new pillows, and add a fire pit or stove. When you choose one or more of these ideas, you can make your patio look brand new.